Voin rauhassa kiittää itseäni asioiden priorisoimisesta niinkin hyvin että ... osa asioista on mennyt miten on mennyt. Olen ollut netittömänä hetken, toisaalta se teki hyvää mutta taas toisaalta ei :D
Tuli myös huomattua kuinka paljon ihminen onkaan riippuvainen netistä!
No mutta mitä tässä on sitten tapahtunut sinä aikana kun olen viettänyt "hiljaiseloa"?
Töitä ja vielä kerran töitä. Alkaa sinällään näkyä senkin työn vaikutus, pari kertaa pitänyt vyötä kiristää uuteen holeen ;D
Lisäksi olen juossut jonkin verran keikoilla yms. muissa häppeningeissä ...
Niina, Zona, I and Hannele :)
... Trash Festeillä lokakuun ensimmäisenä viikonloppuna!! 5.-6.10.
Paljon ihania ystäviä ympäri maailmaa, mahtavia bändejä ja upeita muistoja, once again :)
Tapasin myös muutamia bloggaajia siellä, vitsit että oli hauska tavata ihan kasvotusten osaa ensimmäistä kertaa ... toivottavasti en urpoillut ihan sata lasissa :P
Cristina Scabbia from Lacuna Coil :)
...
Lacuna Coilin
keikalla 9.10.!
Oli ihan mahtavaa, täytyy kyllä sanoa että tuommoinen hinta/laatu-suhde puuttuu valitettavan monista keikoista nykyään.
Uskomaton, yllätyksiä täynnä ollut keikka kesti kaksi tuntia ja toivoin ettei se koskaan loppuisi. Täyttä parhautta alusta loppuun asti :)
Simba Sixx ;)
... 80's bileet On the Rocksissa!
Joista tyylikkäästi myöhästyttiin tunti jos toinenkin :D No mutta, silti meillä oli hauskaa ja tuli tankoiltua itse baarissa muutama kappale Skid Rown tahtiin. Not bad, vaikkakin iltaa varjosti muutama muu vastoinkäyminen.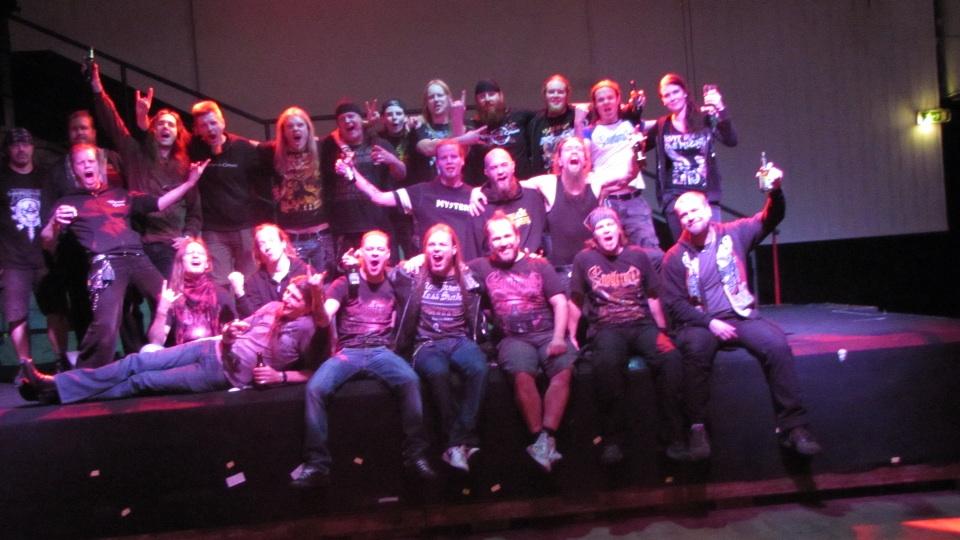 Kuva Amoralin Twitter-profiilista/pic from Amoral's Twitter-profile :)
... Beares of the Sword tour 2012-kiertueen viimeinen keikka Tukholmassa 18.10.!
Profane Omen, Amoral ja Ensiferum. Toimi livenä moinen setti ihan h-e-l-v-e-t-i-n hyvin, ei sanat kyllä riitä kuvailemaan kuinka mahtavaa se oli!! Ketuttaa lievästi ettei tajunnut sitten lähteä useampaa keikkaa katsomaan ... no ehkä ensi kerralla sitten. Oli ihanaa. Niin siirappiselta kuin se kuulostaakin! :D
Palaan paremmilla postauksilla, lupaan, kunhan saan omailla kämpillä tuon netin toimimaan :)
Kuulostampa jotenkin tosi tylsältä vaikka oonkin elänyt yhtä parasta jaksoani pitkään aikaan kaikista vastoin käymisistä lukuun ottamatta ...
Olisi semmoinen ilmoitus luontoinen asia että kun
saadaan 150 lukijaa kasaan
niin vuorossa on tämän blogin makein ja hienoin
blogi-arvonta
i-k-i-n-ä!! Oon niin innoissani jo valmiiksi ... whoops.
Sitä odotellessa ... ;)
Mun pitääkin tästä lähteä nukkumaan. Töitä ja taas kerran töitä! Ei saa valittaa :P
Helpostihan tässä nukahtaa kun kuuntelee radio-lähetyksen kautta Bullet For My Valentinea, mm. uusi biisi Temper Temper kuultu ja ... tuo Matt Tuckin ääni ja se aksentti. Ahh, uhh ja ohh, voiko mikään olla seksikkäämpää kuin se miten englantilaiset puhuu? Ja erityisesti Matt Tuck? NO WAY IN HELL!!
Translation;
Sorry for beeing so quiet lately!!
My internet is kind a broken at my place since I last posted something to here ... but I'm soon back at business. Have lots of great stories to tell you my dear readers :)
But before that some sneak peaks of my latest adventures ... and gigs!
... photo 1: Trash Fest vol. V at Gloria, Hellsinki, 5.-6.10.!
Amazing times, amazing people and friends around the world and amazing bands of course!!
No words to tell how much that festival mean to me. It's pure awesomeness from the beginning to the end, fuck yeah. IN TRASH WE TRUST!
... photo 2: Lacuna Coil at Nosturi, Hellsinki, 9.10.!
One of the best gigs of this year for sure!! Amazing show with some really special things like acoustic-part and they also played songs from every album. Fucking cool! :D
I was so happy after that gig, even I had 2 days in a row of 10 hours work days and 2 more of 8 and 6 hours day to come. So great :)
... photo 3: 80's party at On the Rock, Hellsinki, 11.10.!
We had some pre-party for those 80's party at my wifey's friend place and that took kind a long time from us so we were late from the official 80's party ... few hours. WOOPS!! Well, anyway we had lots of good times and that's the most important thing right?! And dancing on the pole when Skid Row's coming out of the stereo ... yeah, that's what I call for rock'n'roll :P
... photo 4: Bearers of the Sword tour 2012 - the final gig of the tour in Stockholm!!
Finnish bands Profane Omen, Amoral and Ensiferum hit the Europe for 5 weeks and the last gig of these a bit over 30 gigs were in Stockholm, Göta Källare, in Sweden.
So happy about that we decided to go there!! Actually, the line-up and the whole atmosphere on there were so amazing that I'm a bit angry for myself that we made only one of these shows ... ://
But it was definitely better than nothing. Those bands kicked some asses for fuck sake!! Amazing times, once again. Happy Simba!! :)
And finally I wanna say... thanks for staying here, my dear followers, even I have these times when I'm more quiet than usually ... I'm sorry.
But I have something really big and fucking awesome to come for you!!
When there

will be 150 readers

, I will have the best, biggest and coolest competition in this blog what you have ever seen and I think it's gonna hit few other blog-competitions as well ;)
The awardS will be just fucking aaaamazing. And the competition WILL BE INTERNATIONAL too, so you all have the same changes to win GOOD STUFF.
Stay tuned and rock!!