Käytiin ihanaisen Aileenin kanssa Vanhalla Ylioppilastalolla toukokuun 26. päivä Fashion Stock Salessa, mun piti mennä sinne moikkaamaan Anttia ( Asplund ) mutteivat ne olleetkaan siellä :D
Eihän tästäkään ole kuin kaksi kuukautta, olin tyystin unohtanut nämä kuvat ja koko jutun haha!
Otin hieman kuvia myyntipöydistä ja tunnelmasta, kunnon kansalaisena toki kysyin aina luvan ;)
Tämmöiset tapahtumat on musta aina kivoja, kun pystyy bongaamaan uusia (
tai vanhoja tuttuja
) hieman erikoisempia suomalaisia suunnittelijoita/merkkejä. Joku päivä minäkin olen tuommoisissa tapahtumissa myymässä rättejäni :P
Eniten kuolasin, mitäs muutakaan, kuin Minna Parikan kenkiä. Ai että ne on vaan niin kauniita ja herkullisia!
Ja siltä päivältä on jopa asu-kuva, whaaattaaa faaak. Olen vältellyt kameroita viime aikoina kovin koska tämän hetkinen suhde omaan kroppaan on niin pahasti miinuksen puolella että Helvettikin olisi syväjäässä alta aikayksikön. No mutta tässä, en jaksanut sen enempää miettiä asua paitsi että pääasiassa (
hah hah haa
) keskityin vain kokeilemaan uusia pidennyksiä ja jotain sopivaa helteiseen päivään. Eli nuo ihanat pitkät kutrit ovat Goottikirpulta :D Ei omia siis, nyyh.
Mun mielestä ne näyttää ihan kivalta noin, että niitä on vaan toisella puolella. Mielipiteitä?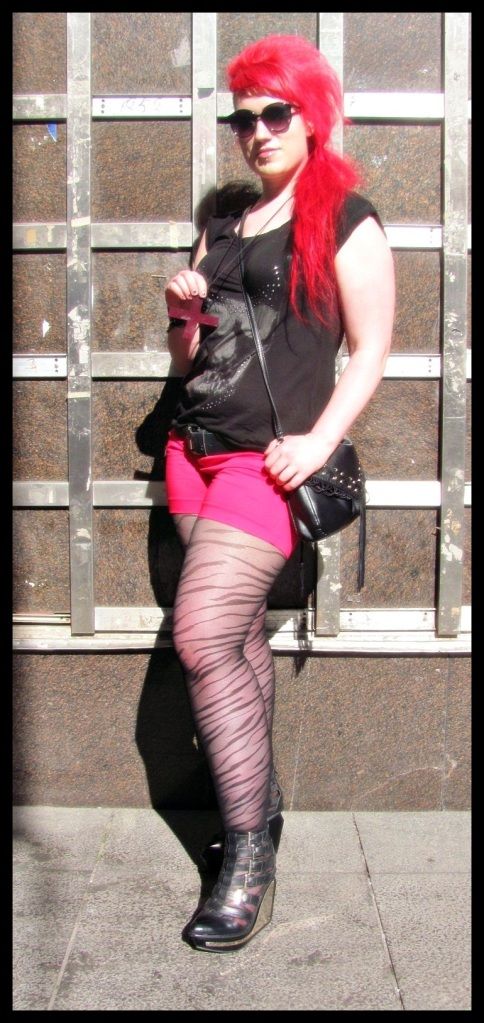 Aurinkolasit / Sunglasses : H&M?
Paita / Shirt : Gina Tricot
Risti / Cross : Antti Asplund
Vyö / Belt : Se sama, Saksasta! / The same one from Germany heh
Sukkahousut / Stockings : H&M
Kengät / Shoes : Jeffrey Campbell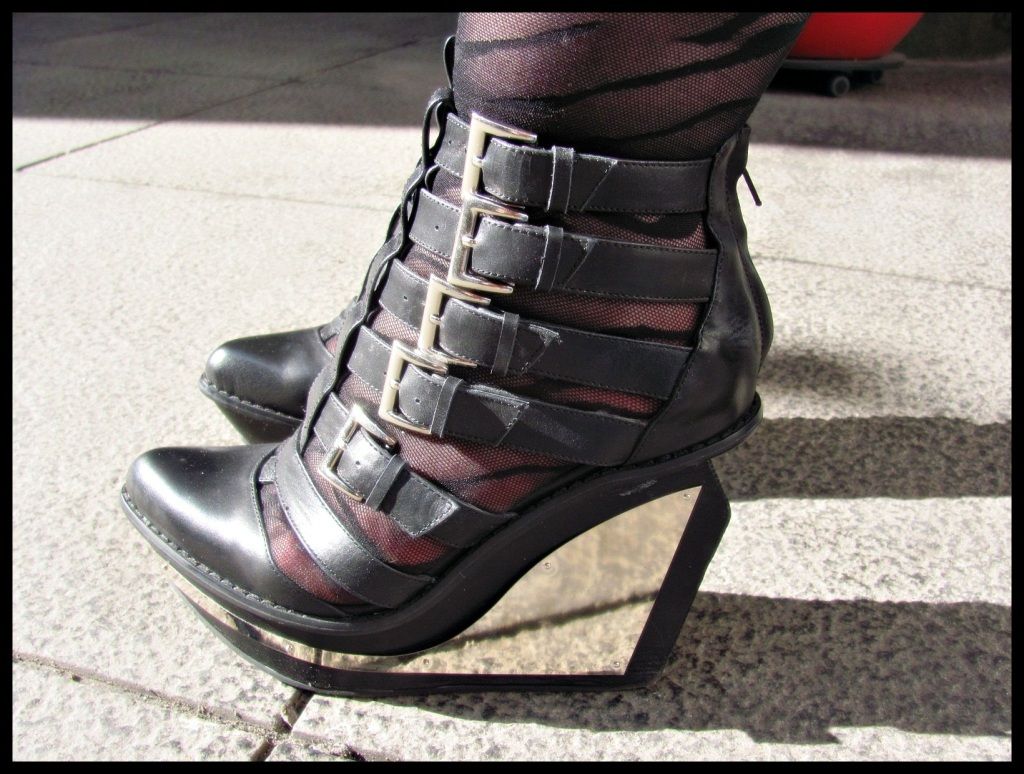 Btw, haluaisin noita Antin ristejä vielä ainakin kolmessa värissä. Musta, valkoinen ja peili. Olisi kiva saada moinen myös kirkkaan punaisena mutta ainakaan vielä semmoista ei ole tullut vastaan ... ;)
Nyt ei oikein irtoa mitään juttua. Olen huolesta soikeana. Tuntuu että kaikki asiat menee vain päin sitä kuuluisinta paikkaa minne aurinko EI paista ja ja ja ... on niin kovin kallista.
Tarvin niitä samperin töitä. Oon lähettänyt valehtelematta 666 hakemusta ja työkokemustakin löytyy kuin pienestä kylästä joten WHATTA FAAAK.
Te muut lurjukset, lopettakaa se saatanan hakeminen ja antakaa nyt mullekkin mahdollisuus joskus :D
We were in Fashion Stock Sales in the end of may (

I know that I'm always so early with these posts haha!

) at Helsinki.
It's event where many finnish designers sale them stuff/special items/old collection pieces etc. at sale.
I like that kind of events, it's always nice to see stuff from old favorites and new intresting designers.
This time I mostly dreamed about Minna Parikka's shoes, they are just fabulous and awesome. One day I will have my own pair of them, I will!!!
Oh and there's also outfit-photo :P
I haven't like to be in the front of camera lately, 'cause at the moment I don't like at all of that what I see in the mirror ...
Anyway, I focus more to put my hair in nice way and show the daylight to my new hair-extensions, I love them!!
I also love a lot of those Antti Asplund's cross-jewel. It's so cool and beautiful, I think! Would love to have it in black, white and 'mirror' colours ... also pure red one would be cool ;)
Other outfit I just collect of the clothes what I felt the best for hot sunny day and wanted to use my Campbell's ... love them too.
Haha ... lots of love. Or then not.