Selasin tuossa yksi päivä Solestruckin sivuja, ja kuolasin kenkiä oikein antaumuksella. Tallensin myös kaikki
Jeffrey Campbellin kengät mitä haluan joten voitte odottaa massiivisia postauksia niistä ;D

Vintage-puolelta, omasta koostani bongasin myös nämä kahdet kauniit bootsit;
No. 566 Mens Almond Western Boot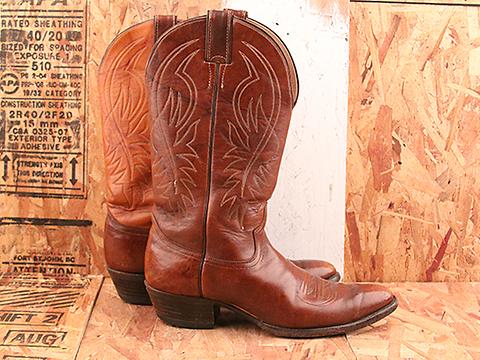 LUXURY JONES 20 Black&White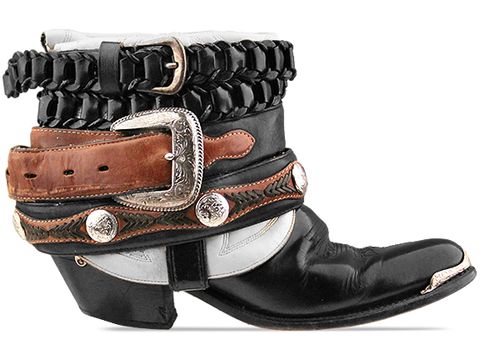 Selasin tosiaan sivustolla niin matalia kuin korkeita kenkiä ja etenkin niitä Campbellejä ja solkimaisia, bootsimaisia kenkiä ja erehdyin ostamaan tietyllä tavalla nuo kriteerit omaavat (
mitä ilmeisimmin
) miesten kengät Vääksystä, rämpe/römpä/whatever-pihakirppikseltä :D
En ole vielä päättänyt että onko ne ihan helvetin hienot vai rumat mutta sen verta pahasti ne jäi mun mieltä kummittelemaan että hain ne itselleni. Hintakaan ei aitonahkaisista, käsin valmistetuista ja suosikki maassani valmistetuista kengistä ollut paljon paskaakaan.
Postausta niistä tulossa myöhemmin!
Paljon himottaisi myös uudet bootsit ... mulla on tällä hetkellä ööö kolmet, tavallaan neljät bootsit.
Yhdet on ainoastaan ns. oikeat - ja samanlaiset kuin
Peter Londonilla
woohoo! :D Ja jotka onnistuin melkein tappamaan ...
Sitten on DinSkosta hankitut mustat jotka olin melkein unohtanut, yhdet punaiset ja yhdet äidin ikivanhat jotka ei ihan bootsibootseilta näytä.
Ja yhdet über-feikit Ellokselta jotka tosin on aika karussa kunnossa ja siksi voisikin olla oivat festari käyttöön ;)
Mieluiten ostan käytettyjä bootseja, tykkään siitä kun niistä näkyy elämää nähty ... no look?
Voisikin vähän Huuto.nettiä kytätä ...
Ja se miksi onnistuin lähes kuolettamaan bootsini, oli siksi että unohdin mokomat hieman kosteina Graspopin jälkeen muovipussiin ... kappas kummaa, olivat mokomat 'semisti' homeessa kun palasin Euroopasta reilaamasta. Voin kertoa että kyynel jos toinenkin pääsi siinä tilanteessa :D Eikä muuten tippaakaan naurattanut.
Onneksi kuitenkin toimin sen verta ajoissa että sain bootsit pelastettua - perusteellinen pesu mäntysuovalla, rasvaus jollain ihme aineella jota isäni käski laittaa ja plankkaus. Huh!
Ja onneksi homehtuminen ei ollut ehtinyt laajenemaan itse kengän sisälle ... sain bootseista putipuhtaat ja eivät tuoksu millään muotoa homeelta eli loppu hyvin - kaikki hyvin.
Tästä tosin opin etten enää IKINÄ jätä kosteita kenkiä minnekkään muovipussiin yms. enkä varsinkaan ota festareille mukaan rakkaimpia bootsejani!
Translation:
Some vintage-boots what I have recently been looking for in Solestruck :P
Would loooove to have a new pair of cool boots now!