En tiedä kuinka moni teistä on tarkemmin tutustunut
Rob Zombien
nykyisessä kokoonpanossa vaikuttavaan
Piggy D
:n mutta blogia kauemmin seuranneet luulevat tietävät että oon ihan umpirakastunut kyseiseen ihmiseen :D
(
Arvatkaa kuinka pähkinöinä olin kun se Graspop 2011 jälkeen se vastas mun FB-viestiin ... ja vielä muistaen tämän hullun punapään eturivistä. IIKS!
)
Anyway, pointti oli se että en ole sata varma miten Piggy D on osallisena
Black Victory
-kaupassa mutta ainakin siellä myydään official Piggy D-merchiä, Piggy D:n tuunaamia ja suunnittelemia custom-vaatteita ja mun mielestä noi t-paidatkin on sen suunnittelemia, ainakin osa. En mene siis varmaksi vannomaan mutta joku jehu se siellä on!
Pääpointti tässä jutussa on se että menin sinne kuolaamaan kaikkea kivaa!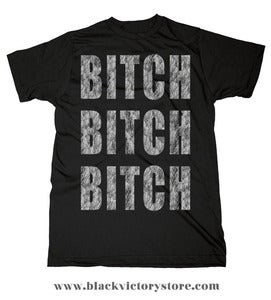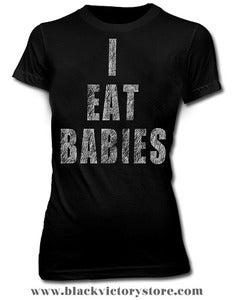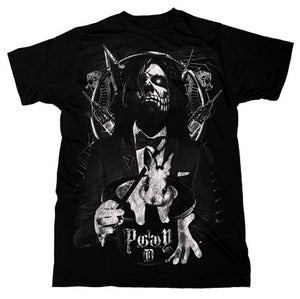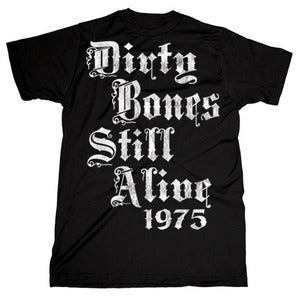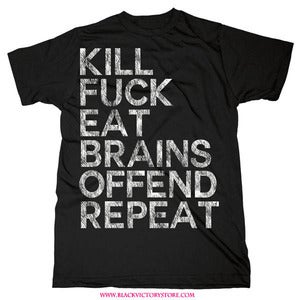 Yleisesti ottaen bändi-paidoissa yms. printti-paidoissa kannatan ns. miesten mallia, koska naisten mallit on a) typerämpää matskua, b) lyhyitä, c) venyvät ja vanuvat pesussa typerän muotoisiksi.
Täällä on joukossa muutama girls-versio koska guys-versioiden tuotekuvissa oli sen verta hemaiseva äijän käppänä että jätettiin tällä kertaa verkkokauppaan.
Miesten malli-paitoja on vaan niin paljon helpompi ja etenkin parempi leikata uuteen uskoon ja no ne nyt muutenkin on vaan paljon hienompia ja coolimpia. Naisten mallit näyttää usein surkuhupaisilta päällä ...
Hinnatkaan ei ole mitään kamalan suuria, $15.00-22.99 (
dollaria
) mutten sitten tiedä noista postituksista yhtään mitään, muuta kuin sen että kyllä ne Eurooppaankin postittaa mutta siinä tapauksessa kannattaa ensin lähettää sähköpostia Black Victorylle.
Mitä tulee bändi/printti-paitoihin, oon tosi tarkka!
Inhoan rumia printtejä tai fontteja, valitettavan monet bändi-paidat on rumia nykyään tai jos noista jompikumpi ei ole päin persettä niin sitten on värit. Mutta näistä tykkään ja paljon!
Mitä nyt semisti ottaa tuon vikan paidan värit silmiin, muuten veri veri najs. Ja toki sivuilta kaikkea muutakin kivaa löytyy, ja etenkin Piggy D:n levyjä, erilaisia paketti-juttuja joissa on kaikkea kivaa jne.
Aion itse ainakin tilata noista jotain HETI kun raha-tilanne sen sallii!
Ellei sitten Piggy D lue mun ajatuksia ja tuo itsensä lisäksi näitä paitoja ja muutamaa custom-liiviä mulle ... sen tahtoisin Piggy D, sen kyllä tahtoisin tapahtuvan todeksi.
Photo: Maureen Van Mortis
On se vaan maailman kuumin mies. Damn!
Translation ;
Piggy D-merch, t-shirts designed by him, custom-made vests etc. - check it out! :)
P.s. Gotta say that Piggy D is the hottest man in the whole motherfucking World ...